"Antonio Papasso"
"Papiers Froissés"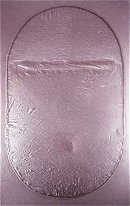 This is the introduction page to the most famous works by Antonio Papasso, the Papiers Froissé. You can appreciate some works made by the artist during '70s. Look at them: they have been made without any color, they are full of white.
We apologize for the photos' quality: it is not so good as the works because they are at least thirty years old.
This WORKS' GALLERY continues chronologically in the following pages.


Place the mouse on images below to enlarge










TOP